UBS, Muse, 2014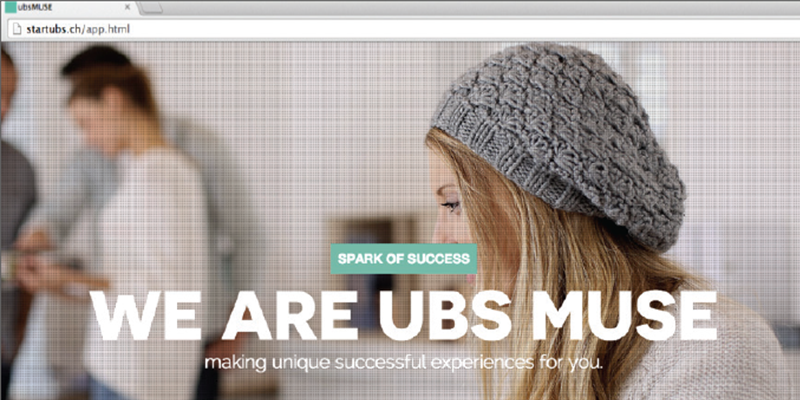 Muse connects young and wealthy individuals to up and coming startups or creative individuals, offering both sides of the bargain a chance to benefit from the wealth of the young USB client.
MUSE stands for Making Unique Successful Experiences and it is an especially designed platform where young wealthy UBS's clients can safely and freely get to meet start-ups and other partners such as artists, designers, etc. that can offer them valuable experiences and knowledge.
These partners can in return benefit from the wealthy youngsters' networks and potential funding. It is a win-win situation for both. Furthermore the service integrates a gamification aspect where young people can choose to complete different sets of experiences, such as "spending a day at a the selected start-up's headquarters".
By completing these experiences, our clients are not only encouraged to develop the relationships with their selected partners but also can collect rewards on their personal pages thus gaining a sense of pride and fulfillment through using the service.
The ultimate aim of the app is to serve as a tool for delivering tangible knowledge and rewarding experiences to these young billionaires while at the same time implicitly teaching precious knowledge about finance, should they decide to place an investment or sponsorship in the future, thus allowing them to grow and potentially prepare for running their own family's fortunes.